AMOS 'n ANDY BOX SET
It's The Perfect Gift for the Senior Who Has Everything
All 76 DIGITALLY RESTORED Complete DVD Set
$49.95 Value

---
Contribute online or by mail, fax, or phone


Financing is Available (no interest) for payments over $99.
---
---
---
Make a tax-deductible donation of $50.00. We'll send you a gift of a complete set of Amos 'n Andy DVDs.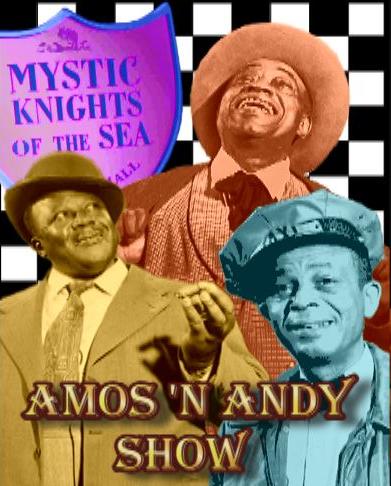 ALL EPISODES ARE INCLUDED IN THIS SET.
---
---
Click below to connect by telephone.
It will dial your phone number and you will be connected to Valarie Stewart.
---
Ebony Showcase Theatre & Cultural Arts Center, Inc.
P.O. Box 431375
Los Angeles, CA 90043
1-323-393-3744 (PHONE)
1-708-789-8192 (FAX)


Leave a message--it will open in a new window--close the window when you are done.

Click here to download an order form for mail or fax orders.
Give a gift of visual and performing arts lessons to a child.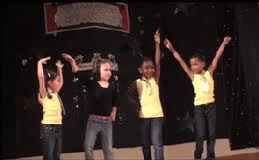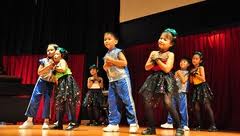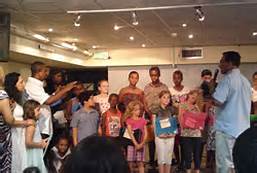 With your support we can provide FREE Acting, Dance, Music, and Art Exposure and Training for Children and teens and provide a channel for positive self-expression.
Training takes place at the United University Church, located on the campus of the University of Southern California. (USC was founded by The United University Church.)
You will make a difference in a child's life when you buy from our online stores, support our advertisers, contribute items, money, or time. Comparative training costs thousands of dollars elsewhere.
All contributions are tax-deductible. Please lend your support to this project: We have an immediate need to raise at least $50,000, seed money, to hire more teachers, to purchase books, computers and equipment for our Internet Broadcasting World Component, for office rental and maintenance, fuel and transportation costs for field trips and meetings, office supplies such as toner, DVDs, CDs, Paper for flyers to distribute, and miscellaneous costs.
---

Make a tax-deductible donation of $50.00 to help deserving kids. We'll send you a gift of a complete set of Amos 'n Andy DVDs.

ALL EPISODES ARE INCLUDED IN THIS SET.

---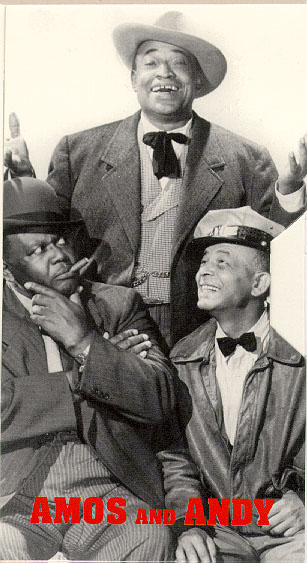 Amos n' Andy began as one of the first radio situation comedy series. The Amos n' Andy show was written and voiced by Charles Correll & Freeman Gosden. Amos n' Andy was first broadcast in 1928. Amos n' Andy ran as a daily radio show from 1928 until 1943, as a weekly situation comedy from 1943 until 1955, and as a nightly DJ show from 1954 until 1960. The television adaptation of Amos n' Andy ran on CBS-TV from 1951 until 1953, and continued in syndicated reruns until the mid 60s.
DIGITALLY RESTORED 9 DVD SET FACTORY SEALED TOP QUALITY Episodes:
1 AMOS HELPS OUT
2 ANDY BUYS A HOUSE
3 ANDY FALLS IN LOVE WITH AN ACTRESS
4 ANDY GETS A TELEGRAM
5 ANDY GETS MARRIED
6 ANTIQUE SHOP
7 ARABIA
8 BIRTHDAY CARD
9 CALL LEHIGH 4-9900
10 CHINCHILLA BUSINESS
11 CLASSIFIED AD
12 COUNTERFEITERS IN THE BASEMENT
13 COUSIN EFFIES WILL
14 FATHER BY PROXY
15 GETTING MAMA MARRIED 1
16 GETTING MAMA MARRIED 2
17 GIRL AT THE STATION
18 GIRLS UPSTAIRS
19 HOSPITALIZATION
20 INCOME TAX SHOW
21 INSURANCE POLICY
22 JEWELRY STORE ROBBERY
23 KINGFISH AT THE BALL GAME
24 KINGFISH BECOMES A PRESS AGENT
25 KINGFISH BUYS A CHAIR
26 KINGFISH FINDS HIS FUTURE
27 KINGFISH GETS AMNESIA
28 KINGFISH GETS DRAFTED
29 KINGFISH GOES TO WORK
30 KINGFISH HAS A BABY
31 KINGFISH SELLS A LOT
32 KINGFISH TEACHES ANDY TO FLY
33 KINGFISH'S LAST FRIEND
34 KINGFISH'S SECRETARY
35 LEROY LENDS A HAND
36 LEROYS SUITS
37 LODGE BROTHERS COMPLAIN
38 MADAME QUEEN'S VOICE
39 MEAL TICKET
40 MR. JACKSON COMES TO TOWN
41 NEW NEIGHBORS
42 QUO VADIS
43 READY MADE FAMILY
44 RELATIVES
45 SAPPHIRE DISAPPEARS
46 SECOND HONEYMOON
47 SEEING IS BELIEVING
48 SOCIETY PARTY
49 SUPERFINE BRUSH
50 THE ADOPTION
51 THE BALLET TICKETS
52 THE BOARDER
53 THE BROKEN CLOCK
54 THE CHRISTMAS STORY
55 THE CONVENTION
56 THE DINER
57 THE ENGAGEMENT
58 THE EYEGLASS
59 THE GODFATHER
60 THE GUN
61 THE HAPPY STEVENSES
62 THE INVISIBLE GLASS
63 THE LIGHT BLUE CAR
64 THE LION TAMER
65 THE PIGGY BANK
66 THE RARE COIN
67 THE RASSLIN MATCH
68 THE TURKEY DINNER
69 THE WINSOW WOMAN
70 TRAFFIC VIOLATION
71 URANIUM MINE
72 VACATION
73 VIVA LA FRANCE
74 YOUNG GIRLS MOTHER
75 INTRODUCTION TO THE CAST
76 CHECK AND DOUBLE CHECK

All DVD's are professionally produced and come with a full DVD case, with artwork, labels and are 100% guaranteed.