Ebony Showcase Theatre Presents...
Over 3,000 Television and Movie Classics, including this catalog of Vintage Documentaries
$14.95 each - TO ORDER CALL 323-393-3744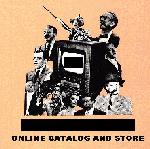 Click here for a list of our other catalogs of over 3000 Vintage Movies and TV shows. Use our search feature to search for your favorites.

VINTAGE DOCUMENTARIES-$14.95 EACH, plus S&H
Each film in this list is $14.95. Ordering information is at the bottom of this page. Videos are new in shrinkwrap! Buyer Pays shipping (Shipping and Handling is $4.95 for the first tape and $1 for each additional tape).

ADVENTURES OF CHICO (1939)
Young Mexican boy tells a tale of his friendship with a wild bird. 60 min. Reference No: 1854

AFRICA SPEAKS (1930)
First sound documentary to explore Africa. 60 min. Reference No: 1987

AFTER MEIN KAMPF? (1940-BRITISH)
The life of Adolf Hitler. 43 min. Reference No: 3280

AN AFFECTIONATE LOOK AT JACK BENNY
Wayne and Schuster look at the career of Mr. Benny. 45 min. Reference No: 3263

AN AFFECTIONATE LOOK AT W.C. FIELDS (1960s)
Wayne and Schuster review the career of the great comic. 45 min. Reference No: 1449

AND NOW MIGUEL (1953)
Produced for the U.S. Government by Joseph Krumgold. Depicts a typical Southwe stern American family. 62 min. Reference No: 2332

BEST OF THE MONSTERS (1960s)
Wayne and Schuster take a look at the great movie Monsters. 45 min. Reference No: 1544

BO-RU THE APE BOY
Documentary on unusual relationships between animals and humans. Produced and Directed by Major C. Court, F.R.G.S. 35 min. Reference No: 2382

BRIDE OF THE BEAST (1932)
Osa and Martin Johnson. Unusual documentary filmed on location in Africa. Includes ferocious animals and natives. 57 min. Reference No: 2410

BROADWAY HIGHLIGHTS OF 1930 (1936)
Compilation of short subjects in which major celebrities of the day visit New York's hot spots. 40 min. Reference No: 2192

COLETTE (FRENCH)
A commentary written and spoken by the great writer. English subtitles. 49 min. Reference No: 2448

THE CONQUEST OF EVEREST (1953-BRITISH)
Narrated by Sir Edmund Hillary. Oscar-nominated documentary about Hillary and company's expedition to Mt. Everest's summit. COLOR. 78 min. Reference No: 1668

THE DECATHLON (1970s)
Made-for-television documentary of the Summer Olympics. COLOR. 60 min. Reference No: 3281

EMPIRE IN THE SUN (1956-ITALIAN)
Explores the people of Peru, with English narration. COLOR. 86 min. Reference No: 1551

THE EPIC THAT NEVER WAS (1965-BRITISH)
Behind the scenes look at why Alexander Korda's 'I, CLAUDIUS (1937)' was never completed. 75 min. Reference No: 2267

THE FILM PARADE (1957)
J. Stuart Blackton's film record of the history of motion pictures. 66 min. Reference No: 1957

GASLIGHT FOLLIES (1945)
Compilation of narrated clips by silent stars. A must see! 78 min. Reference No: 1137

GERMANY AWAKE (1968-GERMAN)
Commissioned by Herman Goebels. English commentary. 90 min. Reference No: 3070

HERE IS GERMANY (1945)
Frank Capra film documents Germany's development as a military power. 52 min. Reference No: 1244

HOLLYWOOD MY HOMETOWN
Candid shots of the stars of the 30s and 40s. 55 min. Reference No: 1884

HOLLYWOOD ON PARADE (1930'S)
Compilation of shorts with Hollywood stars at play. 51 min. Reference No: 1885

HOLLYWOOD MUSEUM (1964)
Narrated by the greats of radio, screen, and TV describing the proposed museum which never was to be. COLOR. 55 min. Reference No: 1807

HUNTERS OF THE DEEP (1954)
A documentary similar to 'The Silent World'. Scuba divers explore the waters of the Western Hemisphere, meeting sharks, sting rays, devil fish and barracuda, as well as sea lions, sea elephants, groupers and other denizens of the sea. Filmed along the Bahamas reefs and the California/Mexico coast. Narrated by Dan O'Herlihy. COLOR. 64 min. Reference No: 4765

ISADORA (1966)
Vivian Pickless. A documentary of Russia's Isadora Duncan. 65 min. Reference No: 2695

THE JAMES DEAN STORY (1957)
The life of the troubled fifties star, narrated by Martin Gabel. 82 min. Reference No: 2917

KILLERS OF THE SEA (1937)
Narrated by Lowell Thomas. Exploration in the gulf of Mexico with Captain Walter Casewell. 50 min. Reference No: 2297

LAND WITHOUT BREAD (1932-SPANISH)
Las Hurdes. Focuses on the poorist region of Northern Spain; a look at poverty and the toll it takes. With English commentary. 28 min. Reference No: 2652

THE LASH OF THE PENITENTS (1939)
A reporter investigates a strange cult in American Southwest. 30 min. Reference No: 1958

THE LAST WILDERNESS (1934)
Featuring the world famous archer, Harold Hill. 55 min. Reference No: 1599

LET THERE BE LIGHT (1944)
Narrated by Walter Huston. Chronicles the lives of shell-shocked WWII veterans and their efforts to return to society. Directed by John Huston. 60 min. Reference No: 2065

THE LIFE OF ADOLPH HITLER (1961-GERMAN)
Documentary of Adolph Hitler using captured Nazi archival footage. 101 min. Reference No: 2874

MARCH OF THE FUHRER (1941-GERMAN)
Showcase for Hitler's hysteria-inducing propaganda. With English subtitles. 60 min. Reference No: 2909

THE MEMPHIS BELLE (1944)
One of the finest documentaries ever put out by the War Department during WWII. COLOR. 43 min. Reference No: 2918

THE MISADVENTURES OF BUSTER KEATON (1950-BRITISH)
Features many excellent Keaton routines. 65 min. Reference No: 1602

MOTION PICTURE HISTORY OF THE KOREAN WAR (1958)
Combat footage and newsreel interviews. 58 min. Reference No: 1034

NO, I HAVE NO REGRETS (1973-BRITISH)
Edith Piaf. Performances, Newsreels, Interviews, etc. 52 min. Reference No: 2843

NOT SO LONG AGO (1965)
Narrated by Bob Hope. A nostalgic look at America on 8/14/45, the last day of our war with Japan. 54 min. Reference No: 1416

THE NUREMBURG TRIALS (1946)
Actual footage of the historic trials. 76 min . Reference No: 2793

OLYMPIA, PART ONE (1936-GERMAN)
Directed and Produced by Leni Riefenstahl. Coverage of the 1936 Olympics. 112 min. Reference No: 1964

OLYMPIA, PART TWO (1936-GERMAN)
Directed and Produced by Leni Riefenstahl. Continuing coverage of the 1936 Olympics. 91 min. Reference No: 2914

PARIS 1900 (1950)
The early days of Paris. Narrated by Monty Woolley. 76 min. Reference No: 1116

THE RAMPARTS WE WATCH (1940)
A March of Time Feature. 90 min. Reference No: 2752

THE RIVER/THE PLOW THAT BROKE THE PLAINS (1937-FRENCH)
Two documentaries from director Pare Lorentz. 60 min. Reference No: 1556

THE SECRET LIFE OF ADOLPH HITLER (1958-GERMAN)
Contains actual interviews with Eva Braun and captured Nazi footage of Hitler. 52 min. Reference No: 1939

SLAPSTICK (1960)
Tons of silent footage with Chaplin, Keaton, Lloyd, Langdon, Chase and many, many more. 76 min. Reference No: 1838

THE SONG OF CEYLON (1934-BRITISH)
Documentary of 1935 Film Festival. Directed by John Grierson. 40 min. Reference No: 1245

STILLWELL ROAD (1945)
Produced by the U.S. Government. Narrated by Ronald Reagan. 49 min. Reference No: 3282

THIS IS AMERICA (1932)
History of America 1917 to 1932. Produced by Fredric Ullman, Jr. ALSO: THE AMERICAN ROAD-A history of the automobile. Narrated by Raymond Massey. 90 min. Reference No: 2112

THIS NUDE WORLD (1932)
Documentary on nudist camps in France, Germany, and the U.S. 55 min. Reference No: 1641

A TOUR OF THE WHITE HOUSE (1962)
Jacqueline Bouvier Kennedy ushers average Americans through the White House. 60 min. Reference No: 3254

TRIUMPH OF THE WILL (1934-GERMAN)
Possibly the most artful propaganda piece ever made. Directed by Leni Riefenstahl. 115 min. Reference No: 1514

TUNISIAN VICTORY (1943)
Footage of Allied Forces in North Africa during WWII. 74 min. Reference No: 3283

THE WAR GAME (1965-BRITISH)
Docudrama about the aftermath of a nuclear war. 49 min. Reference No: 1940

WARSAW GHETTO (1967-BRITISH)
Chilling look at Nazi atrocities in Warsaw. 51 min. Reference No: 2113

WILD RAPTURE (1950)
Contains very unusual footage of native customs and African lifestyles. 68 min. Reference No: 1986
---
All of the films in this list are $14.95 plus S&H
Contact us to order:
---
---

Ebony Showcase Theatre & Cultural Arts Center, Inc.
P.O. BOX 431375
Los Angeles, CA 90043
323.291-6772


Write us if you have ideas or questions.We want to keep in touch with you. Become a Participant or Sponsor. Write to us.
---
The Ebony Showcase Theatre was founded by Nick and Edna Stewart. Nick Stewart played the part of Lightnin' on the Amos 'n' Andy TV show and is the voice of Disney's Brer Bear in the "Song of the South" full-length feature cartoon.
---
Return to Category List