---

Ebony Showcase Theatre Presents...
Over 3,000 Television and Movie Classics, including this catalog of Black Classic Films - Vintage Films by and About African Americans and people of African Descent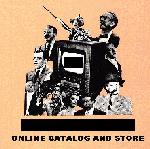 Click here for a list of our other catalogs containing over 3000 Classic Movies and Vintage TV shows in various categories. Use our search feature to search for other movies and TV shows.
BLACK FILM COLLECTION
To order: Phone 323-393-3744 or fax to 1-708-789-8192; or mail your requests to the address below. Each film listed below is $14.99. Videos are new in shrinkwrap! Buyer Pays shipping (Shipping and Handling is $4.95 for the first tape and $1 for each additional tape).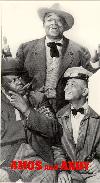 AMOS 'N' ANDY Nick Stewart, the co-founder of the Ebony Showcase Theatre was a castmember of Amos 'n' Andy TV show. Click here for our Amos 'n' Andy Catalog
BEWARE (1946)
Louis Jordan, Valerie Black, Frank Wilson. Louis Jordan and his Tympani Five play a gig at his alma mater, and ends up having to save the school from bankruptcy. 57 min. Reference No: 1676
BIG TIMERS (1945)
Francine Everett, Duke Williams, Stepin Fetchit, Tarzana. Young girl catches the eye of an Army officer. 40 min. Reference No: 1673
THE BLACK KING (1932)
A.B. Comathiere, Vivian Baber, Knolly Mitchell. Comedy drama concerning a conman leading a bogus back-to-Africa movement who takes advantage of other blacks who think of him as their savior. Based on the life of Marcus Garvey. 72 min. Reference No: 1468
BLOOD OF JESUS (1941)
Spencer Williams. Sinful husband accidentally shoots his newly-baptized wife, causing an uproar in their rural town. Written and Directed by Spencer Williams. 60 min. Reference No: 2392
BOARDINGHOUSE BLUES (1948)
Dusty Fletcher, Jackie "Moms" Mabley. Troubled theatrical boardinghouse serves as the backdrop for this musical revue. 87 min. Reference No: 1677
BOY! WHAT A GIRL (1945)
Tim "Kingfish" Moore, Gene Krupa (cameo). Moore plays a producer who dons women's clothing to ensure that the show will go on! Can you picture Kingfish in drag??? Don't miss it! 69 min. Reference No: 1678
BROKEN STRINGS (1940)
Clarence Muse, Sybil Lewis, William Washington. After an accident limits the use of his left hand, a concert violinist becomes a music teacher and constantly clashes with his swing-loving son. 60 min. Reference No: 1023
THE BRONZE BUCKAROO (1939)
Herbert Jeffrey, Spencer Williams, jr., Clarence Brooks. Five cowboys ride from Texas to Arizona to help their friend defend his ranch from a ruthless ranch hand. 57 min. Reference No: 1617
THE DEVIL'S DAUGHTER (1939)
Nina Mae McKinney, Jack Carter, Ida James. Comedy-drama set in Jamaica as a voodoo high priestess clashes with her innocent half-sister over their late father's plantation. 60 min. Reference No: 1181
DIRTY GERTIE FROM HARLEM U.S.A. (1946)
Francine Everette, Spencer Williams. Gertie goes to Trinidad to hide out from her jilted boyfriend. Based on the W. Somerset Maugham novel, "Rain". 60 min. Reference No: 2486
DOUBLE DEAL (1939)
Monte Hawley, Jeni Le Gon, Freddie Jackson. Shifty hood robs a jewelry store and tries to pin the crime on his rival. 60 min. Reference No: 2789
THE DUKE IS TOPS (1938)
Lena Horne, Ralph Cooper, Monte Hawley. In Horne's film debut, she plays a woman who gets her big break but must choose between love and fame. 80 min. Reference No: 2012
THE EMPEROR JONES (1933)
Paul Robeson, Dudley Digges, Frank Wilson. The rise and fall of a railroad porter, from a life sentence on a chain gang to being emperor of Haiti. 72 min. Reference No: 1542
GANG WAR (1940)
Ralph Cooper, Gladys Snyder, Monte Hawley. Two gangs fight for the control of profits from New York's jukebox business. 65 min. Reference No: 2554
THE GIRL FROM CHICAGO (1939)
Carl Mahon, Star Calloway, Eunice Brooks. Secret service agent falls in love while on assignment in Mississippi, but must clear his lover's name when she is arrested for the murder of a numbers racketeer. 70 min. Reference No: 2544
GO DOWN DEATH (1941)
Spencer Williams, Myra D. Hemmings. Intriguing morality tale concerning a minister who is caught in a moral dilemma. 60 min. Reference No: 2576
GOD'S STEPCHILDREN (1936)
Alice B. Russell, Jacqueline Lewis, Ethel Moses. Controversial story about a light-skinned black woman whose resentment of her heritage leads to tragedy. Directed by Oscar Micheaux. 65 min. Reference No: 1618
HARLEM RIDES THE RANGE (1939)
Herbert Jeffrey, Spencer Williams, jr., Artie Young. Exciting western saga of singing cowboy who outsmarts the outlaws who stole the deed to a uranium mine. 58 min. Reference No: 2316
HI DE HO (1947)
Cab Calloway, Ida James. Lots of jazz numbers highlight this story of a bandleader who is caught between rival gangsters. 72 min. Reference No: 1002
THE JACKIE ROBINSON STORY (1950)
Jackie Robinson, Ruby Dee, Louise Beavers. Robinson plays himself in this autobiographical account of his groundbreaking entry into baseball's major leagues. 76 min. Reference No: 1560
JERICHO (1933)
Paul Robeson, Henry Wilcoxin. Army corporal is court-martialed and sentenced to die for a murder he didn't commit. 77 min. Reference No: 2611
THE JOE LOUIS STORY (1953)
Coley Wallace, Paul Stewart. Story of Joe Louis who overcame poverty and prejudice to become the world heavyweight boxing champ. 88 min. Reference No: 1608
JUKE JOINT (1947)
Spencer Williams, July Jones. Pair of vagabonds arrive in Hollywood with only 25 cents between them. 70 min. Reference No: 1662
JUNCTION 88 (1947)
Bob Howard, "Pigmeat" Markham, Wyatt Clark, Noble Sissie. Rollicking entertainment with great dancing, plenty of laughs, and hot music. 70 min. Reference No: 1026
KEEP PUNCHING (1939)
Henry Armstrong, Willie Bryant, Mae Johnson. Gutsy boxer never gives up on his championship mission. 60 min. Reference No: 2634
KILLER DILLER (1948)
King Cole Trio, Dusty Fletcher, Jackie "Moms" Mabley, Butterfly McQueen. Topnotch variety show with a superior all-star cast. 70 min. Reference No: 1027
KING SOLOMON'S MINES (1937-BRITISH)
Paul Robeson, Cedric Hardwicke. Classic story of action and danger in search for a diamond mine in the wilds of Africa. Adapted from the Novel by H. Rider Haggard. 80 min. Reference No: 3072
LOOK-OUT SISTER (1948)
Louis Jordon, Monte Hawley, Suzette Harbin. "Two Gun" Jordan saves a dude ranch from foreclosure. 64 min. Reference No: 1679
LUCKY GHOST (1941)
Mantan Moreland, F.E. Miller, Monte Hawley. Fun-filled comedy about a gambling hobo who wins a haunted country club. 60 min. Reference No: 1660
LYING LIPS (1939)
Edna Mae Harris, Carmen Newsome, Earl Jones. Young nightclub singer Harris is framed for murder, and inexperienced detective Newsome must clear her name. 70 min. Reference No: 1680
THE MAGIC GARDEN (1958 )
Tommy Machaka, Harriet Qubeka. First film shot in South Africa. Stolen 'magic money' has strange effects on those who come in contact with it. 63 min. Reference No: 2915
MIRACLE IN HARLEM (1944)
Stepin Fetchit, Sheila Guyse. When a gang tries to take over a candy shop and their leader is killed, evidence points to the shop owner's daughter. 70 min. Reference No: 1674
MISTAKEN IDENTITY (1941)
Nelle Hill, George Oliver, Skippy Williams and his Jazz Band. Thriller about a murder that takes place in a nightclub which may have connections to a singer's boyfriend, an escaped con. 60 min. Reference No: 2943
MOON OVER HARLEM (1939)
Bud Harris, Nora Green, Izinetta Wilcox. Directed by Edgar G. Ulmer. Tragic story of a widow who marries a fast-talking, morally bankrupt gangster. 75 min. Reference No: 1025
MURDER ON LENNOX AVENUE (1941)
Mamie Smith, Alec Lovejoy, Edna Mae Harris. When a corrupt leader of the Harlem Better Business Bureau is overthrown, he swears vengeance against his replacement. 65 min. Reference No: 1620
MURDER WITH MUSIC (1941)
Bob Howard. Crime drama where a reporter tries to get the story on a notorious gangster. 57 min. Reference No: 1028
NATIVE SON (1951)
Richard Wright, Jean Wallace. Gripping drama based on Richard Wright's controversial novel about a young black chauffeur who accidentally kills his employer's daughter. 90 min. Reference No: 1140
THE NEGRO SOLDIER (1944)
Maj. Stuart Heisler. From the Why We Fight series. A look at the participation of black soldiers in WWII. Directed by Frank Capra. 40 min. Reference No: 2848
PARADISE IN HARLEM (1939)
Mamie Smith, Frank Wilson. A look at the life of black entertainers before WWII. 85 min. Reference No: 2748
THE QUIET ONE (1948)
Donald Thompson, James Agee. Documentary-styled look at the ghetto's psychological effects on black youth. 68 min. Reference No: 2825
REET, PETITE AND GONE (1947)
Louis Jordan, June Richmond. Singer's mother dies leaving a will which a crooked lawyer alters. Lots of jazz numbers in this all-black musical. 70 min. Reference No: 2771
SANDERS OF THE RIVER (1935-BRITISH)
Paul Robeson, Nina Mae McKinney. British officer in colonial Africa tries to stop a rebellion. 87 min. Reference No: 1314
SEPIA CINDERELLA (1947)
Sheila Guyse, Ruble Blakey. Songwriter finds sudden success and abandons his current life for high society. 67 min. Reference No: 1029
SON OF INGAGI (1940)
Zack Williams, Laura Bowman, Spencer Williams. Lonely ape-man kidnaps a woman in an attempt to find love. 65 min. Reference No: 1959
SONG OF FREEDOM (1936-BRITISH)
Paul Robeson, Elizabeth Welch. Dockworker-turned-opera singer travels to Africa to investigate his royal ancestry. Rare early feature from the famous Hammer Film Productions, Ltd., including the only feature appearance of company founder Will Hammer! 70 min. Reference No: 2169
SPIRIT OF YOUTH (1938)
Joe Louis, Mantan Moreland. The only feature Joe Louis ever made. Louis supports his family with menial jobs until he proves himself a fighter. 70 min. Reference No: 2674
SUNDAY SINNERS (1941)
Mamie Smith, Frank Wilson. Minister's son wants to clean up the mean streets of the city and is framed for murder in the process. 65 min. Reference No: 1681
SWING (1938)
Cora Green, Hazel Diaz, Larry Seymour. Musical love story that follows the relationship of philandering husband and his naive wife. 70 min. Reference No: 1021
TALL, TAN AND TERRIFIC (1946)
Mantan Moreland, Francine Everett. The owner of a Harlem nightclub is accused of murder. 50 min. Reference No: 1661
TEN MINUTES TO LIVE (1932)
Laurence Chenault, A.B. Comathiere, Laura Bowman. Two suspense stories that deal with trouble and treachery in the world of Harlem after dark. Directed by Oscar Micheaux. 60 min. Reference No: 2685
TWO-GUN MAN FROM HARLEM (1938)
Herbert Jeffrey, Mary Whitten, Mantan Moreland, Spencer Williams, Jr. Big city fellow travels to the wild West to clear himself of a murder charge. 60 min. Reference No: 1619
UNCLE TOM'S CABIN (1903 & 1914)
(These two silent films are not all-black movies)Two versions of the classic Harriet Beecher Stowe tale of slavery. Latter version features Sam Lucas, the first black man to get the lead role in a movie, and also stars Hattie Delero, Irving Cummings. Directed by William Robert Daly. 60 min. Reference No: 1812
---
All of the films in this category (except for Amos 'n' Andy) are $14.99 plus S&H
Contact us to order or to inquire about other films not listed in this catalog:
---
---

Ebony Showcase Theatre & Cultural Arts Center, Inc.
P.O. Box 431375.
Los Angeles, CA 90043
323.393-3744
---
---
The Ebony Showcase Theatre was founded by Nick and Edna Stewart. Nick Stewart played the part of Lightnin' on the Amos 'n' Andy TV show and is the voice of Disney's Brer Bear in the "Song of the South" full-length feature cartoon. In 1995, he was inducted into the ARCHIVE OF AMERICAN TELEVISION by the Academy of Television Arts and Sciences for his pioneering work in television.
---
Click to return to Catalog Category List
---