Keep The Legacy Alive Through Giving Free Visual and Performing Arts Training and Exposure to Kids.
You can also donate using Paypal
Building and Projects Fund
---
Volunteer with us.


Join Our Team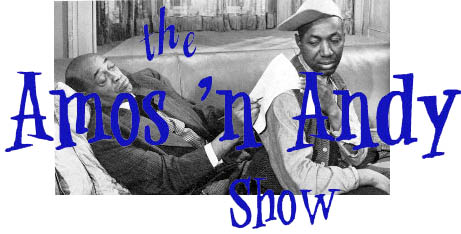 ---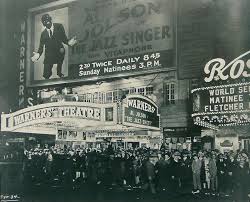 ---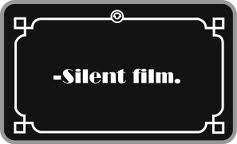 ---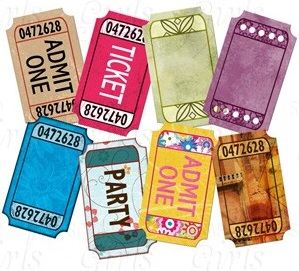 ---
---
---
---
NICK STEWART'S ARCHIVE OF AMERICAN TELEVISION INTERVIEW
by Dan Pasternack for the Academy of Television Arts and Sciences
June 20, 1997.
---
---
FILMOGRAPHY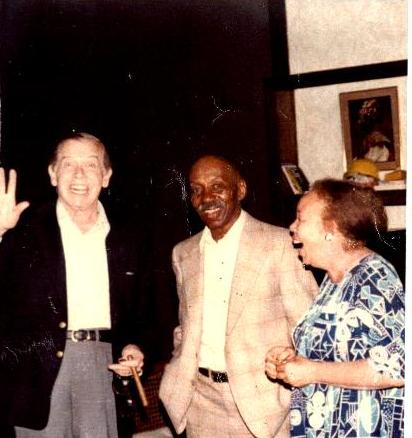 Milton Berle was a friend to Nick and Edna Stewart. They worked as a team on the Vaudeville stage. The picture above was taken on the Ebony Showcase Theatre's stage during one of Milton Berle's frequent visits to see his friends, Nick and Edna.
---
Nick Stewart created Brer Bear's voice for Disneylands Splash Mountain Ride and in the movie Song of the South.

---
NICK STEWART appeared in the following videos and DVDS. Please purchase them here to support Nick and Edna Stewart's non profit organization, the Ebony Showcase Theatre and Cultural Arts Center, Inc. Use the links at the bottom of this page to write to us if you want to order any of the movies that are listed on this page.
HOLLYWOOD SHUFFLE (1987)
... aka Robert Townsend's Hollywood Shuffle (1987) (USA: video title)
Nick and Edna Stewart helped Robert Townsend by letting him shoot some of the movie';s scenes at the Ebony Showcase Theatre; and Robert Townsend asked Nick Stewart to appear in a cameo role in the movie so Nick played Cookie's Father.
A sharp comedy about the burdens of being a black actor, co-written, directed, produced and acted by Robert Townsend, who financed this labor of love on credit cards. The parodies of TV movie critics and the School for Black Acting are very funny. With co-writer Keenen Ivory Wayans, Anne-Marie Johnson and Helen Martin.
ITEM NO. DVD-DV62668 - Letterboxed. Includes optional Spanish soundtrack, optional French and Spanish subtitles, and theatrical trailer.
---
Silver Streak (1976) Nick Stewart played the Shoe Shiner who gave dark shoe polish to Gene Wilder.
---
IT'S A MAD MAD MAD MAD WORLD
In the movie " It's a Mad Mad Mad Mad World" ... aka" It's a Mad, Mad, Mad, Mad World" (1963) (USA: promotional title) (1963), Nick Stewart was the Migrant truck driver in the very first scene in the movie.
Forty stars and a million laughs in this wild romp featuring a cast of some of America's greatest funnymen and other celebrities: Jimmy Durante, Milton Berle, Spencer Tracy, Buster Keaton, Eddie "Rochester" Anderson, Edie Adams, Stan Freberg, Carl Reiner, Don Knotts, Joe E. Brown, Sid Caesar, Buddy Hackett, Ethel Merman, Terry-Thomas, Mickey Rooney, Phil Silvers, Jonathan Winters, the Three Stooges and many more, plus cameos by Jack Benny, Jerry Lewis and others.

---
Tarzan's Fight for Life (1958) (uncredited) .... Molo
Flame of the Islands (1956) .... Willie
Phantom of the Jungle (1955) .... Willy-Willy
Thunder Over Sangoland (1955)
---
Nick Stewart played the part of Dink Franklin in the movie " Carmen Jones " Otto Preminger's adaptation of the Broadway hit in which Bizet's opera is updated with an all-black cast. Oscar Hammerstein wrote new lyrics for the music and Marilyn Horne provides the singing voice for star Dorothy Dandridge. The show still belongs to Dandridge, however, who became the first African-American nominated for a Best Actress Oscar. Also starring Harry Belafonte, Brock Peters,Pearl Bailey, and Nick Stewart.
ITEM NO. VHS-S21385 - $14.99
DVD-DV68714 - Letterboxed. Includes theatrical trailer, optional French soundtrack, and optional Spanish subtitles.
$19.98
Otto Preminger USA 1954 105 mins.

---
"Ebony Showcase Presents" (1953) TV Series .... Host
No Holds Barred (1952) .... Stick-Up Man
"Ramar of the Jungle" (1952) TV Series .... Willy-Willy
---
AMOS 'N' ANDY (1951) TV Series (as Nick O'Demus) .... Lightnin'
Click here for Amos 'n' Andy TV Shows. The link wil open into a new window, close the window to return to this window.
---
East Side, West Side (1949) (uncredited) .... Red Cap
Voice of the Turtle, The (1947) (uncredited) .... First Elevator Operator
... aka One for the Book (1947) (USA: reissue title)
Down to Earth (1947) (uncredited) .... Porter
Trail to San Antone (1947) -Nick Stewart is uncredited in " Trail to San Antone"where he played the part of Sandy
---
THE PERFECT MARRIAGE (1947)
Nick Stewart is (uncredited in the movie "Perfect Marriage"
A screwball farce about the marriage of airplane factory executive David Niven and fashion editor Loretta Young. On their tenth anniversary, a minor argument escalates into a severe misunderstanding and the two promptly initiate divorce proceedings. Their precocious nine-year-old daughter (Nina Griffith), caught in the middle, tries to bring about a reconciliation. With Eddie Albert, Virginia Field, Jerome Cowan and Rita Johnson.
ITEM NO. VHS-S19903 - $19.98
---
SONG OF THE SOUTH (1946) (voice)
(as Nicodemus Stewart) .... Br'er Bear
| | | |
| --- | --- | --- |
| The Briar Patch | Everybody's Got a Laughin' Place | Brer Rabbit Runs Away |
---
Night Train to Memphis (1946) (as Nicodemus Stewart) .... Porter
---
Centennial Summer (1946) (uncredited) .... Redcap
---
NIGHT AND DAY (1946) (uncredited) .... Black Waiter
Cary Grant plays Cole Porter, the composer who thrilled the world for 40 years with his witty, dramatic and memorable songs. Grant and the rest of the cast sing over twenty Porter classics in this Technicolor film that follows Porter from his undergraduate days at Yale to international acclaim.
ITEM NO. VHS-S14315 - $19.98
DVD-DV72396 - Includes French and Spanish subtitles. Closed-captioned. $19.97

Michael Curtiz USA 1946 128 mins.
---
BEHIND GREEN LIGHTS
Nick Stewart is uncredited in "Behind Green Lights" where he plays a Black man
When a murder victim is dumped at the door of police headquarters, police lieutenant Sam Carson (William Gargen) is torn between his devotion to duty and the opportunity to do something dishonest for political gain. Starring Carole Landis, Richard Crane and John Ireland.
ITEM NO. VHS-S59160 - $19.95
Otto Brower USA 1946 65 mins.
---
COLONEL EFFINGHAM'S RAID (1946) ... aka Man of the Hour (1946) (UK)
Click the triangle below to see the movie on your computer.
Nick Stewart is uncredited in Colonel Effingham's Raid, where he played the part of " Ninety Eight" Director: Irving Pichel
Starring: Charles Coburn, Joan Bennett, William Eythe, Allyn Joslyn, Elizabeth Patterson, Donald Meek, Cora Witherspoon.
Description: Retired army colonel launches a military campaign against city hall to save his town's lone historical landmark from being renamed after the corrupt mayor. From the novel by Barry Fleming.
Color/B&W: B&W. Running Time: 70 mins. Item #2447 $14.99 Format: VHS
---
One Way to Love (1946) (uncredited)
---
DAKOTA (1945) (as Nicodemus Stewart). Nick played Nicodemus (Capt. Bounce's Bosun)
John Wayne becomes involved with a land war in Fargo, North Dakota. He sides with the wheat farmers against a gang of greedy opportunists, headed by Ward Bond and Mike Mazurki. Lots of two-fisted action before the cavalry shows up. With Vera Ralston and Walter Brennan as Capt. Bounce.
ITEM NO. PRICE
DVD-DV63686 - $14.98
Joseph Kane USA 1945 82 mins.
---
She Wouldn't Say Yes (1945) (uncredited) .... Porter

ABBOTT AND COSTELLO COLLECTION
Nick played a part in "Abbott and Costello in Hollywood"
The comic misadventures of Abbott & Costello in three of their hits: S. Sylvan Simon's 1942 musical Rio Rito and the 1945 Abbott & Costello in Hollywood, and Charles Riesner's Lost in a Harem.
ITEM NO. VHS-S17326 - $49.92

---
I Love a Bandleader (1945) .... Willie Winters
... aka Memory for Two (1945) (UK)

Zombies on Broadway (1945) (uncredited) .... Worthington
... aka Loonies on Broadway (1945) (UK)
Gildersleeve's Ghost (1944) (as Nicodemus Stewart) .... Chauncey: the Chauffeur
Andy Hardy's Blonde Trouble (1944) (uncredited) .... Dining Car Waiter
Follow the Boys (1944) .... Lt. Reynolds
... aka Three Cheers for the Boys (1944) (USA)
Heavenly Body, The (1943) (uncredited) .... Willie
Stormy Weather (1943) (uncredited) .... Cousin Jake
Hoosier Holiday (1943) (as Nicodemus) .... Aloysius Lincoln
... aka Farmyard Follies (1943) (UK)
False Faces (1943) (as Nicodemus Stewart) .... Mack
... aka Attorney's Dilemma, The (1943) (UK)

---
CABIN IN THE SKY (1943) (as Nicodemus Stewart)
.... Dude
Minnelli's first chance to direct was by MGM starring an all-black cast. Eddie Anderson (Rochester on the Jack Benny Show) proves to be an outstanding actor, with Ethel Waters as the woman who saves his life, Lena Horne, and an appearance by Louis Armstrong.
ITEM NO. VHS-S01747 - $19.98
Vincente Minnelli USA 1943 99 mins.

---
MY SON THE HERO (1943)
Director: Edgar G. Ulmer
Starring: Patsy Kelly, Roscoe Karns, Joan Blair, Carol Hughes, Maxie Rosenbloom, Luis Alberni, Hal Price, Al St. John, Nick Stewart.
Description: After writing elaborate tales to his war correspondent son, making junior think that Dad's a local bigwig, pops must think fast when when he receives a telegram announcing his son's impending visit. Co-Written by Edgar G. Ulmer & Sam Newfield.
Color/B&W: B&W. Running Time: 66 mins. Item #3209 $14.99 Format: VHS
---
HIT PARADE OF 1943 (1943) (uncredited) .... Willie
... aka Change of Heart (1949) (USA: reissue title) Director: Albert S. Rogell.
Starring: John Carroll, Susan Hayward, Eve Arden, Gail Patrick, Dorothy Dandridge, Count Basie, Freddy Martin, Ray McKinley and their orchestras.
Description: Carroll plays a down-on-his-luck publisher who steals a song from budding songwriter Hayward, who plots revenge. Features an early appearance of Dandridge. Produced by Albert J. Cohen.
Color/B&W: B&W. Running Time: 90 mins. Item #1409 $14.99 Format: VHS
---
SUNSET SERENADE (1942) (uncredited) .... SamBR Director: Joseph Kane
Starring: Roy Rogers, George "Gabby" Hayes, Helen Parrish, Onslow Stevens, Joan Woodbury, The Sons of the Pioneers.
Description: Easterner must defend her newly acquired ranch when a villain tries to cheat her out of it. It's up to Roy and The Pioneers to save the day. Songs include: "I'm Headin' for the Home Corral", "He's a No Good Son of a Gun", "Sandman Lullaby", "Song of the San Joaquin", & "I'm a Cowboy Rockefeller". UNCUT ROY ROGERS WESTERN!
Color/B&W: B&W. Running Time: 58 mins. Item #4080 $14.99 Format: VHS
---
West of Cimarron (1941) (uncredited) .... Jason Brown
---
ROBIN HOOD OF THE PECOS (1941) (uncredited) .... Mose Johnson
Director: Joseph Kane.
Starring: Roy Rogers, George "Gabby" Hayes, Marjorie Reynolds, Cy Kendall, Sally Payne, Roscoe Ates, Spade Cooley.
Description: Immediately following the Civil War, a former Confederate soldier from Texas becomes a modern day Robin Hood to counteract the doings of corrupt Northern politicians. Produced by Joseph Kane.
Color/B&W: B&W. Running Time: 56 mins. Item #3236 $14.99
Format: VHS
---
Wall Street Cowboy (1939) (uncredited) .... Porter
Dark Manhattan (1937) (uncredited) .... Pete
Mind Your Own Business (1936) (as Nicodemus) .... Butler
Go West Young Man (1936) (as Nicodemus Stewart) .... Nicodemus
Prosperity (1932) (uncredited) .... Train Porter
Filmography as: Actor, Miscellaneous Crew, Himself, Notable TV Guest Appearances

Miscellaneous Crew - filmography

Hollywood Shuffle (1987) (thanks)
... aka Robert Townsend's Hollywood Shuffle (1987) (USA: video title)



Filmography as: Actor, Miscellaneous Crew, Himself, Notable TV Guest Appearances

Himself - filmography
(2000s) (1990s)

Inside TV Land: African Americans in Television (2002) (TV) .... Himself


Spencer Williams: Remembrances of an Early Black Film Pioneer (1996) (V) .... Himself



Filmography as: Actor, Miscellaneous Crew, Himself, Notable TV Guest Appearances

Notable TV Guest Appearances

"Mister Ed" (1961) playing "Mailman" in episode: "My Horse, the Mailman" (episode # 5.21) 28 April 1965
"Mister Ed" (1961) playing "Park Cleanup Man" in episode: "Ed the Sentry" (episode # 5.14) 3 March 1965
"Mister Ed" (1961) playing "Mailman" in episode: "Ed Writes Dear Abby" (episode # 5.3) 18 October 1964
"Mister Ed" (1961) playing "Charles" in episode: "Mae West Meets Mister Ed" (episode # 4.21) 22 March 1964
"Ben Casey" (1961) playing "Proprietor" in episode: "Allie" (episode # 3.4) 2 October 1963
---
---


Click here for our classic movies and vintage TV shows catalogs