CORPORATE WELFARE

According to Time Magazine "Two years after Congress reduced welfare for individuals and families, this other kind of welfare continues to expand, penetrating every corner of the American economy. It has turned politicians into bribery specialists, and smart business people into con artists. And most surprising of all, it has rarely created any new jobs."
Here is a quote from the 1993-1994 Los Angeles Grand Jury's Report on Redevelopment: Redevelopment may be the single most powerful planning tool available to local governments in California. It is also perhaps the most widely abused and twisted tool available to local governments in California.-Professor William Fulton.
Read TIME MAGAZINE's article about what corporate welfare costs you, Reader's Digest's article called "Kiss Your House Goodbye," read news and commentary, and visit other websites which will inform you of the magnitude of the takings throughout the United States. >

Click here for articles and links
---
---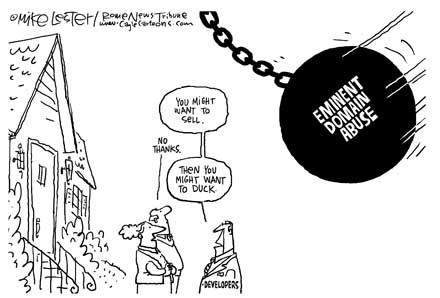 BERNARD LUGGAGE AND 30 OTHER BUSINESSES ARE THREATENED WITH EMINENT DOMAIN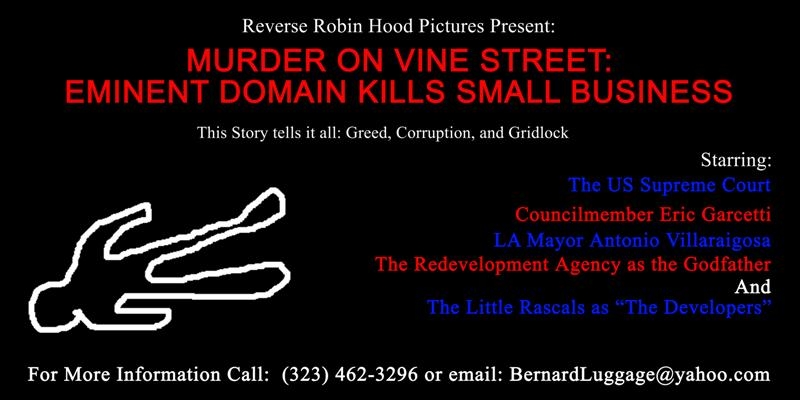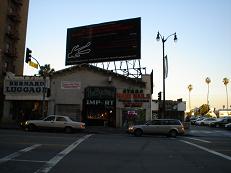 On March 2, 2006, The Los Angeles Redevelopment Agency voted to Condemn Small Property Owners located at the famous intersection of Hollywood and Vine, and force out 30 small businesses and demolish them all, including Bernard Luggage which is located in the Historical 1928 Herman Building, designed by CJ Weyl, who won an Academy Award for The Adventures of Robin Hood and home to radio broadcasts by Johnny Grant & Bob Hope.
Bob Blue, owner of Bernard Luggage, decided to fight back. He and his manager, Ziggy, designed a billboard (shown above) which is now on the roof of his building for all to see.


Click here to visit Bernard Luggage.



Ziggy speaks out. Click here to hear what Ziggy has to say.



Hear speeches from the June 23, 2006 Rally on the anniversary of the Kelo Decision.



Listen to the speech of a representative from http://www.limiteminentdomain.org
.
yahoo group
---
Click the button below to chat with someone from PALS,
or to leave a message for them if they are away from the computer.
---
WEBCHAT
---
PALS
c/o Ebony Showcase Theatre
and Cultural Arts Center, Inc.
P.O. Box 431375
Los Angeles, CA 90043
323-393-3744