DONATE TO HELP REBUILD THE HISTORIC EBONY SHOWCASE THEATRE AND RECEIVE A TAX DEDUCTION. WE WILL SEND YOU A FREE GIFT OF AN AUTOGRAPH OR A VIDEO UPON REQUEST.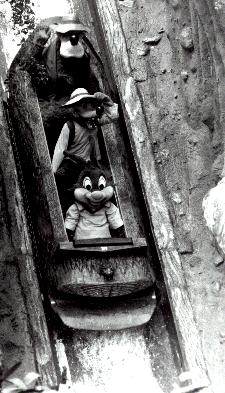 Get Nick Stewart's Autograph
Nick Stewart and his wife, Edna, founded the Ebony Showcase Theatre in 1950. Nick is a veteran of vaudeville, radio, movies, and TV. The memorable Mae West put Nick in his first movie "Go West Young Man" in 1936. He created Brer Bear's voice in Disney's feature film classic "Song of the South" (1946) and Disneyland's Splash Mountain Ride in 1989. Click here to read an excerpt from Disney's 1986 SONG OF THE SOUTH PRESSBOOK Nick played the part of Lightnin' on the Amos 'n' Andy TV show in the early 1950s.
You or Your Business can help rebuild Nick and Edna's theatre. The historic buildings were described as "severely earthquake damaged" and demolished by the Community Redevelopment Agency (CRA). We must move to a new location and rebuild.
Nick will sign a personal "thank-you" autographed 8 x 10 picture of himself as "Lightnin'" of "Amos 'n' Andy" (circa 1952) or an 8 x 10 photo of Nick with Brer Bear taken at the opening of Disneyland's "Splash Mountain" ride (1989, where he is the voice of Brer Bear), when you make a donation to our non profit Ebony Showcase Theatre. You can also help the Ebony Showcase Theatre when you make a purchase from our online emporium, click on a sponsor's banner, or when you order a product or service from the Ebony or one of our sponsors (You help us even when you order free stuff from our website). We, in turn, promise to help families and children and to provide positive quality entertainment.
---
Sorry: Nick Stewart's autographed photos are temporarily unavailable.
Please email us and make a request if you would like to reserve Nick's autograph
or if you are seeking an item that is not listed on our website.
Perhaps we can help you locate it.
---
Get Alan Young's Autograph
Alan Young and Nick and Edna Stewart have been friends for nearly half a century. Alan Young played the part of Wilbur on the "Mr. Ed" TV show, wrote Disney's "Mickey's Christmas Carol" and is the voice actor who created the voice of Uncle Scrooge in Disney's "Duck Tales." He has participated in projects at the Ebony Showcase Theatre and he donated autographed photos to send to donors as a "thank-you." The photo on the left shows Nick Stewart, Edna Stewart and Alan Young discussing a script at the first building that the Ebony Showcase Theatre occupied (circa 1953).



---
Alan Young has also donated autographed photos to send to donors as a "thank-you:"
Alan Young and Uncle Scrooge McDuck
---
MILTON BERLE AND NICK STEWART WORKED TOGETHER
Get a Texaco Star Theatre Video
In the mid 1930s Nick Stewart worked with a brash young vaudevillian named Milton Berle. Berle and Stewart appeared on stage at the Palace Theatre in New York. In later years Milton Berle was an occassional visitor to the Ebony Showcase Theatre. This photo shows Milton Berle coming out of the Gentlemen's room at the Ebony Showcase Theatre. Both Nick Stewart and Milton Berle were inducted into the Academy of Television Arts and Science's ARCHIVE OF AMERICAN TELEVISION because of their pioneering work in television. A limited number of "Texaco Star Theatre" videos starring Milton Berle and famous guests are available to donors. Although we don't have autographed videos, a facsimile of Milton Berle's signature is printed on the video cover
---
We have a limited number of TEXACO STAR THEATER videos starring Milton Berle, with some of Hollywood's biggest legends, that we will send as a thank you to donors. Greatest Moments of Comedy Video features Milton Berle with the following guests: Louis Armstrong, Duke Ellington, Harpo Marx, Frank Sinatra, Ethel Merman, Franchot Tone, Dean Martin, Martha Raye, Dane Clark, Jerry Lewis, Cole Porter, Joan Davis, Ed Sullivan, Peter Lorre, Eddie Arnold, Jack Benny, Rochester, Pat Rooney, Patrice Munsel, Tony Martin, Florence Desmond
(Black and White/Color/Running time: 56 minutes)
---
Send a tax-deductible donation: (Suggested donation: at least $20 for one and $35 for two 8 x 10 autographed photos or for un-autographed Milton Berle video(s) and tell us which thank-you item(s) you want.
---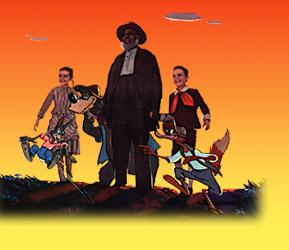 Nick and Edna Stewart are humanitarians who took money that Nick earned playing characters such as Brer Bear (shown in the graphic at the left) and Lightnin' on the Amos 'n' Andy TV show, and used their money to help others through their Ebony Showcase Theatre. We offer over 3000 video titles. Most are listed in our online video store (follow the link at the bottom of this page). If you are looking for a rare video or an autograph that is not listed in one of our catalogs, write us, we may be able to help you to locate what you are looking for. Call or Email to make a tax-deductible donation and to reserve your gift. We will send a confirmation. Make your check payable to EBONY SHOWCASE THEATRE, INC. (All major credit cards are accepted.)
---
We are a non profit 501(c)(3) organization. All contributions are non-taxable to the full extent of the law.
Contact us at:
---

Ebony Showcase Theatre & Cultural Arts Center, Inc.
2306 W. Slauson Ave.
Los Angeles, CA 90043
323.291-6772 or 1-866-815-2673 (toll-free voicemail and fax)
Send us email (classictvshowsandmovies4u@ebonyshowcase.org)


Sign up for our mailing list here. Participate in our Forums. Chat.
Write us if you have ideas or questions.We want to keep in touch with you. Become a Participant or Sponsor. Write to us.
---
---
NOTE: In order to preserve the legacy of television, THE ACADEMY is documenting the experiences of as many television pioneers as possible in order to create the vast and truly comprehensive collection. (Our founder Nick Stewart and Milton Berle are among the first celebrities chosen for this great archive).

The Academy of Television Arts & Sciences is committed to ensuring that the stories, visions and insights of those who have made television what it is today and those who will continue to contribute to its development, are made available for future generations.
---
CLICK HERE to go directly to our Online Video Store for over 3000 Vintage Movies and Classic Television Shows. They're great for family gatherings, parties, home theatre presentations and for educators and students.

CLICK HERE to go to our Main Page for other online services and features. BE OUR GUEST....