Buy a Classic Video from our collection of rare and hard-to find movies and TV shows and help to keep Nick Stewart's dream alive


Star of Amos 'n' Andy, Song of the South, Mad Mad Mad Mad World, Carmen Jones, and more... Nick Stewart , movie, television, and theater pioneer, was selected by the Academy of Television Arts and Sciences for their Archive of American Television. His interviews are now a part of this historic collection of interviews with famous celebrities who pioneered televison .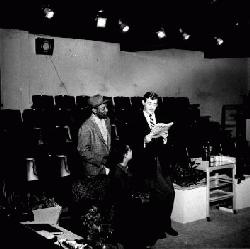 THE EBONY SHOWCASE THEATRE was founded in 1950....In 1950 husband and wife team, Nick and Edna Stewart took the money that Nick earned in his acting career and that Edna earned in sales to transform an old automotive repair garage to the first Ebony Showcase Theatre. It was a labor of love and necessity: In those days, Black actors could only play the parts of servants, so Nick and Edna decided to fight the racism, themselves, by building a theatre that provided opportunties and that did not practice racism. People of all races performed and supported the Ebony Showcase Theatre. Nick lost his job as Lightnin' on the Amos 'n' Andy TV show as a result of his building the theatre. After that, the Stewarts moved their Ebony Showcase Theatre a total of 3 more times. In the 1960s they converted a former silent movie theatre and adjacent buildings on West Washington Boulevard to a legitimate theatre and related businesses that they occupied for nearly 40 years. Times were often tough, Nick and Edna are pioneers and Hard work, not foundation grants nor government subsidies, sustained the Ebony Showcase Theatre and Cultural Arts Center. They did much of the work themselves so visitors who didn't know them would sometimes mistake them for workers.
Nick & Edna Stewart are shown in the photo (above left) with their friend Alan Young (who is the voice of Scrooge McDuck in Disney's Duck Tales") over 50 years ago at that first theatre. Nick Stewart created the voice of Disney's Brer Bear in Disney's "Song of the South" & the "Splash Mountain" ride at Disney theme parks. He also played the part of Lightnin' on the Amos 'n' Andy TV show. Nick's the guy in the truck in that funny opening scene of Mad Mad Mad World, and the guy who gave Gene Wilder the shoe polish in Silver Streak. In 1995, he was inducted into the Academy of Television Arts & Science's ARCHIVE OF AMERICAN TELEVISION for his Pioneering work in Television. Nick was born on March 15, 1910. He died December 18, 2000, fighting (for property rights) against redevelopment and eminent domain abuse.
---
---

The Stewarts helped to start the careers and/or present many famous celebrities at the award-winning, historic, Ebony Showcase Theatre.

Click here for a partial list of stars who started their careers or who performed at the Ebony Showcase Theatre


Read some of the News Articles that were written about the Stewart's work (under construction--check back soon.)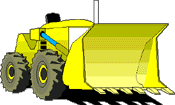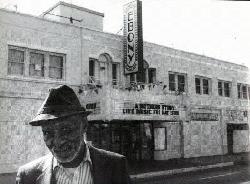 The Ebony Showcase Theatre is a 501(c)(3) non profit organization which presents live professonal theatre, community theatre, business & consumer services, and traditionally maintains uplifting programs and opportunities for men, women, teens and kids (who learn about business and the arts in a safe, violence-free, art and culture-filled, environment).

You can get videos of your favorite vintage movies and TV shows such as Andy, Jack Benny, George Burns and Gracie Allen, Silent films, Vintage Cartoons, Historic Documentaries, Cult Classics, and more (we offer over 3,000 titles) for you own collection, or as gifts for friends, from our online Emporium, and by supporting our sponsors. All proceeds from the sale of items in our emporium and from revenue from advertisements that are hosted on our website will support the Ebony's non-profit outreach and will help to build a new auditorium: We now occupy offices and a studio.

The Ebony Showcase Services continue to be offered on the World Wide Web and in our studio to people from all walks of life. Many years ago, Nick Stewart prophetically wrote "A Theatre needs to be more than just a building... A Culture must be more than a collection of Art and Music..."
---

Click here for my mother's memories of my father's life and career.

Click here for a press release from Disney Studios with Roy Disney's comment's about my father's work and career.

Click Here to go right to our FUN-RAISER catalog of rare Vintage Videos (your favorite and hard-to-find movies and TV shows).

- HOME -
Contact us for videos and/or if you want to work together, to help, or if you have questions:
Valarie Stewart

Ebony Showcase Theatre & Cultural Arts Center, Inc.
P.O. Box 431375
Los Angeles, CA 90043
323.393.3744
1-866-815-2673 (fax)